Tag Archives:
appetizer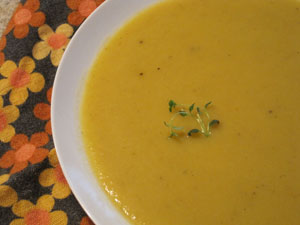 (serves 6)
Warm your house and heart with this cold weather, delicious soup. It is guaranteed to chase away the dark and blustery mood of winter.
2 Tbs. unsalted butter (or 1 Tbs. butter plus 1 Tbs. olive oil)
3 leeks (halved lengthwise, washed thoroughly, white and pale green portions cut into 1 inch pieces)
1-3 lg. garlic clove, minced
1/2 cup finely chopped celery
1/2 cup finely chopped carrot continue reading →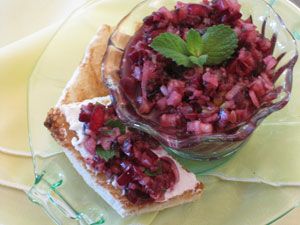 (yields 18 crostini)
Relish the bounty of sweet red cherries with this easy recipe.
1 c. fresh sweet cherries (about 5-1/2 oz., pitted and finely chopped
1/2 c. finely diced jícama
1 med. scallion (white and green parts), very thinly sliced
1 tsp. chopped fresh mint
1/2 tsp. red wine vinegar
Pinch of cayenne; more to taste continue reading →